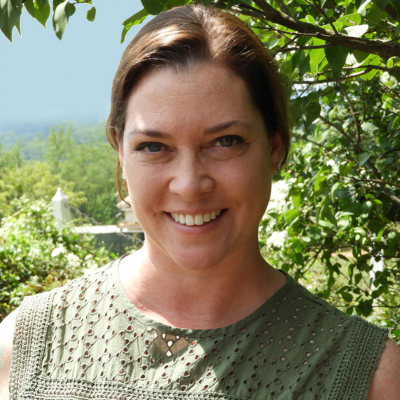 Sarah Harry MA, LPCC
She/Her

Inclusion Statement: "I believe in integrity, equity, and inclusion for all people. All are welcome at Courage & Grace Counseling. All people receive the same respect, honor, and competent care regardless of any ability, race, gender, socio-economic status, ethnic and cultural backgrounds, spiritual beliefs and sexual or relational orientation."
The Story of Courage & Grace

Welcome to my private practice, Courage & Grace Counseling, LLC. I began this practice so that I could work with clients using my guiding values and principles, while maintaining the ethics and guidelines that are required of me. It takes courage to make changes and work towards growth and healing. This work presents many challenges and is oftentimes difficult, too. I chose the word Courage for my practice because I believe we are all brave, and courage exists in this work. I chose the word Grace because I believe that the opposite of shame is grace. In finding truth and self-compassion, clients may find courage and grace. This is the space where growth and healing can begin.
Honoring Your Story
I join my clients where they are in their story with caring knowledge that they are doing the best they can. I use curiosity and care while learning about each client and how they would like to engage in counseling and therapy. Everyone has different experiences, challenges, needs and wants. I honor the individual story with dignity and respect, knowing that it takes bravery to seek help and work with a professional within a therapeutic relationship. We identify the needs and goals of counseling together while I am a guide and professional in helping each client work toward their goals of growth and healing.
The Focus of Your Story
Anger
Anxiety
Blended Families
Communication
Conflict Resolution
DBT Skills (Sarah is DBT Trained)
Depression
Emotional Regulation
Eating Disorders
Gender Identity
(Sarah is a Gender Specialist)
Grief and Loss
Healthy Boundaries
LGBTQIAP+ Community
(Sarah is an Ally, Advocate,
and practices Affirmatively)
LGBTQIAP+ Topics
Life Transitions
Parenting and Co-parenting
Perfectionism
Relational Orientation
Relationship, Marriage and Divorce
Self Confidence
Self Esteem
Sex and Sexuality
Sexual Orientation
Shame
Trauma
A Bit of My Story
I spent more than 20 years as a businessperson before I became a therapist. I made a major life change because I wanted to work with people's hearts and minds. I am transparent, and I have passion for helping people in all areas of my life. Becoming a therapist, and working within my community, with all people, is something that I deeply value every day. I have a steady and calm presence in my work. I am an advocate and an ally; the mama bear in me is often present during my sessions. I hope to work with clients on their wellness, goals and to support them in their lives with positive and enriched outcomes. I am committed to continuing to learn and grow as a therapist, and I plan on doing this work for a very long time.
A Bit About How I Work
I provide counseling to any person from age 13 and older. I enjoy working with adolescents, individuals and partnered relationships. I deeply value the learning process and join clients in their story with no judgment and an open mind. Trust and relationship are earned, and I honor this in my professional and personal settings. I believe people are doing the best they can, and that working with a counselor can broaden their outcomes. When clients learn more about who they are, and how they got to where they are, they begin to make shifts in their lives. The shifts can lead to impactful changes and healthy outcomes. I acknowledge that coming to counseling takes bravery and that courage exists in this work; it is oftentimes present during the sessions. I value the process of exploring life's challenges together, and I am honored to work within your story.

A Story of Community
Having lived my entire life in the NW Suburbs of Minnesota has given me great appreciation for the importance of community and being connected to my community. I am fully rooted here, and I bring passion and care to my involvement in my work and home environments. My counseling office serves people from Rogers and surrounding cities. I meet with clients in my office and use TeleHealth. I have worked as a school-based therapist for District 728. I also work on the District 279 Risk and Emergency Management Advisory Committee (5th year member). I belong to, and I am active in, many organizations and associations. I take pride in supporting non-profits and finding ways to give to my community to uplift others. I believe that supporting, connecting and engaging with our community impacts who we are—we all do better when we all do better.
Knowing that we can be loved exactly as we are gives us all
the best opportunity for growing into the healthiest of people.
Mr. Rogers